New in 2018
Jungle Rules
Carl Malinowski is a mercenary with a midlife crisis. After leading his team on a daring mission to capture Colombia's most notorious drug lord, he is confronted with a choice between the life he has and the life he wants. In love with Gabriele, the girl of his dreams, Carl maintains a double life for as long as he can. Gabriele loves him, but she is carrying her own secrets.
The chain of events set in motion by the jungle kidnapping causes Carl's two lives to collide with devastating effect. Now alone, he learns that, along with the cartel, his own government is trying to kill him. Carl must go back to the jungle—to save a hostage, to save himself, and to preserve the dream of living an ordinary life at the side of the woman he loves. But first he and his men have to get out of the jungle alive!
terrorism novels, Jungle Rules Trilogy, White Nationalism, Domestic Terrorism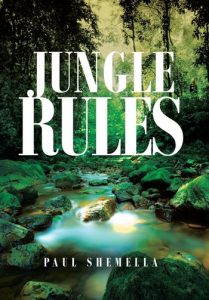 Author Paul Shemella
Paul Shemella, Captain, USN (retired)


Lecturer Emeritus, Naval Postgraduate School
Paul Shemella is a career Navy SEAL and longtime lecturer on terrorism, civil-military relations, and maritime security.  As a naval officer, he planned and executed Special Operations in Europe, The Middle East, Africa, and Latin America.
As an academic, he designed and delivered seminars and workshops on civil-military responses to national security threats all over the world. He has published groundbreaking books on terrorism, maritime security, and African governance.  Paul lives with his wife in Carmel Valley, California.  Now in retirement, he is writing a trilogy of thriller novels.