New in 2018
Jungle Rules
Carl Malinowski is a mercenary with a midlife crisis. After leading his team on a daring mission to capture Colombia's most notorious drug lord, he is confronted with a choice between the life he has and the life he wants. In love with Gabriele, the girl of his dreams, Carl maintains a double life for as long as he can. Gabriele loves him, but she is carrying her own secrets.
The chain of events set in motion by the jungle kidnapping causes Carl's two lives to collide with devastating effect. Now alone, he learns that, along with the cartel, his own government is trying to kill him. Carl must go back to the jungle—to save a hostage, to save himself, and to preserve the dream of living an ordinary life at the side of the woman he loves. But first he and his men have to get out of the jungle alive!
Readers review on goodreads.com
Ryan Dimm said: " Jungle Rules is book one of The Jungle Rules Trilogy by Paul Shemella. Jungle Rules tells the story of a mercenary named Carl Malinowski. In the book, Carl is having a midlife crisis after his recent mission in Colombia. After his team pulled up a risky mission to capture Colombia's top drug lord, Carl is thinking of finally giving up his military life and ride off to the sunset with his Gabriele, the woman he loves.

Carl's plan to live a more serene life is thrown into a downward spiral when the jungle kidnapping exposes Carl's two separate identities to collide. The violent life he has led all these years threatens to destroy all the things he painstakingly sheltered including Gabriele. Carl Malinowski is now a man torn between a life of violence and a peaceful one with the woman he holds most dear.

Recently, we have seen action novels paying tribute to legends Robert Ludlum and Tom Clancy. Works like Jack Reacher by Lee Child, Game of Snipers by Stephen Hunter, Clean Kill by Jack Coughlin, and Storm Rising by Ronnie Kendig have gained good reviews. But what Paul Shemella's Jungle Rules offers though, is a different read. It is like leafing through the pages of Tom Clancy's early works while imagining John Rambo with the relentless of Ludlum's Bourne. Simply put, Jungle Rules are both cunning and masterfully action-packed. It is a breath of exciting fresh air, enough for us to merit Paul Shemella's work with the Book of the Week distinction. It is a must-read for all classic action novel fans.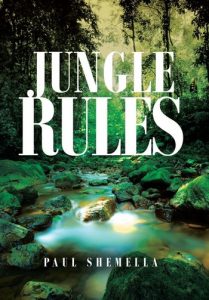 Author Paul Shemella
Paul Shemella, Captain, USN (retired)


Lecturer Emeritus, Naval Postgraduate School
Paul Shemella is a career Navy SEAL and longtime lecturer on terrorism, civil-military relations, and maritime security.  As a naval officer, he planned and executed Special Operations in Europe, The Middle East, Africa, and Latin America.
As an academic, he designed and delivered seminars and workshops on civil-military responses to national security threats all over the world. He has published groundbreaking books on terrorism, maritime security, and African governance.  Paul lives with his wife in Carmel Valley, California.  Now in retirement, he is writing a trilogy of thriller novels.