This book tells the story of Carl Malinowski, a mercenary with a mid-life crisis who leads a team on a dangerous expedition to capture Colombia's most notorious drug lord. His personal journey begins when he is forced to choose between the life he has and the life he desires—in love with Gabriele, the girl of his dreams, Carl lives a double life for as long as he can.
Will Carl be able to keep his dream of living an ordinary life at the side of the woman he loves?
Book Two: A More Perfect Union
The story begins in 1999 when a tourist is killed saving hundreds of innocent people at the Washington Air and Space Museum. A shadowy group calling itself 'DEFCON One' claims responsibility for what is undeniably an act of domestic terrorism. The FBI believes the group is a covert terrorist cell within an overt right-wing militia, based in Wyoming. Recruited by the FBI, Gabriele Barnes, the grieving wife of the victim, agrees to go undercover as a confidential informant.
Will Gabriele be able to take her revenge while also preventing a cataclysmic act of terrorism?
Book Three: The Dictator's Revenge
This book tells the story of Manuel Noriega, who was imprisoned while plotting his revenge for the American invasion of Panama. He offers a large portion of his numbered bank account to the ruthless leader of his favorite drug cartel. The "contract" demands the destruction of the Panama Canal, the lifeblood of Noriega's homeland and crown jewel of American engineering.
As the conspiracy unfolds, Carl demonstrates strategic and tactical brilliance at every turn. But nobody knows for sure what is happening. Will Carl and his team find out soon enough to stop the attackers?
Book One: Jungle Rules
" Once you pick up this book it will be difficult to put it down! "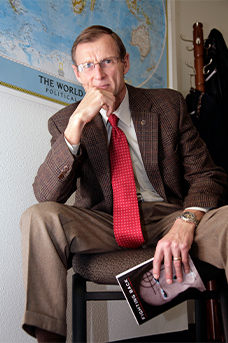 Paul Shemella is a career Navy SEAL and longtime lecturer on terrorism, civil-military relations, and maritime security. He has published groundbreaking books on terrorism, maritime security, and African governance. Paul lives with his wife in Carmel Valley, California. Now in retirement, he is writing a trilogy of thriller novels.
Almost all governments spend a lot of money to raise and maintain armed forces (and those that don't, have police forces that look and act like sold...